Gold Pawning vs Gold Selling
June 16, 2022
Posted by:

pawnzon

Category:

Gold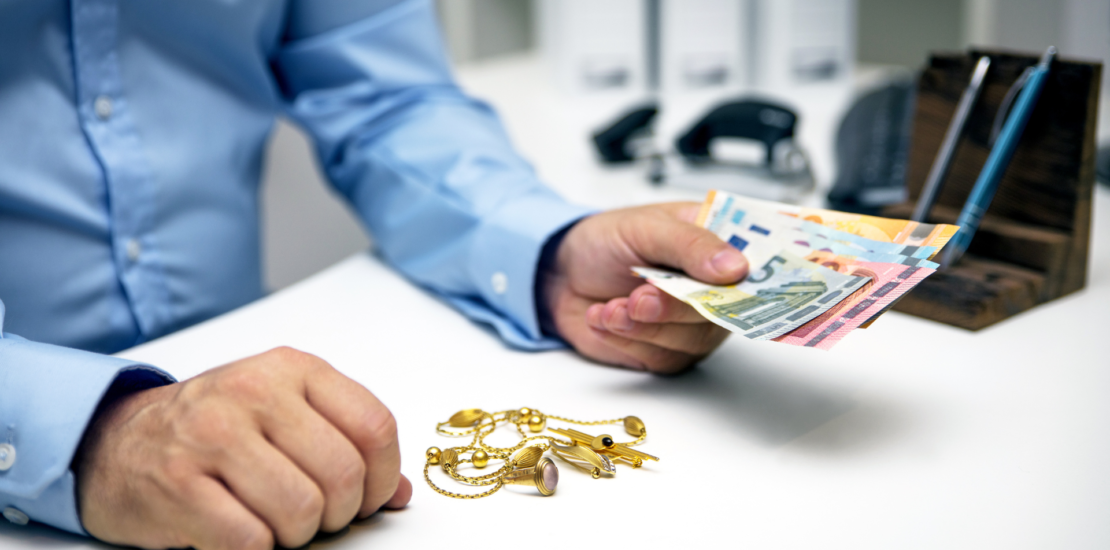 Pawning Gold? Selling Gold? What's the difference?
So here comes the question. Should I "Pawn" my gold, or just "Sell" it off? What are the differences?
"Gold" Saving = "Cash" saving. For those who save gold, when in needs of fast cash, they can just exchange their gold to "Cash" by pawning or selling. The whole process only takes 10-15 minutes, and the money will be in your hand. They do no need to apply for "Personal Loan" which required weeks or even months to get approval. Some couldn't even get loan approval due to the strict bank policies.
The difference between pawning gold at Pawnzon and selling gold to another gold shop:
PAWN In PAWNZON
SELL to Kedai Emas
Price
Get up to 80% market value of Gold

Get market value of gold deduct "price spread"

Cost

Interest will be charged

In Pawnzon, interest will be calculate as following:

1) Daily interest as low as 0.07% per day

(not exceeding 2% rate per month)

Or

2) Monthly interest fixed at 1.5% rate per month

"Price spread" * will be charged

Price spread is the percentage of the difference between "Selling price" and "Buy Back Price" of the gold shop. Usually it is around 6% - 12%, however, there are some stores that charged a price spread of around 30%!

The formula is as following:

("Selling Price" - Buy Back Price") ÷ (Selling Price) x 100 = Spread%

Ownership of your gold

You still own the ownership of your gold. You can choose to redeem your gold back anytime you want within 6 months.

If you decided not to redeem it back, no problem at all. You can just let it go like you sold off your item. No risk of getting bad credit record!

Sold off and done
Additional benefit

Simple & Flexible:

1) RENEW TICKTET:

If you do not wish to redeem your item after 6 months, but you still want to keep your gold, you can choose to pay the interest only, and your pawn ticket will be renewed for another 6 months.

2) "Pay Less" INSTALLMENT PLAN:

You can choose to resolve parts of your loan anytime within 6-months. Lower loan, lower interest!

3) ADD LOAN:

Here comes the best part! Within the 6 months pawn period of your item with us, if the pawn price increase, you can choose to top up your loan according the current pawn price, and get more money!

In Pawnzon, all these above can be done ONLINE! You can pay your interest, pay less and add loan online! The money can be transferred to your account directly without any hassle!

N/A
Have you decided to "Pawn" or "Sell" your gold?
If you just needed some fast cash, and do not wish to lose your gold so you can re-use it in future, it will be the best to "Pawn". However, if you have confirmed that you do not want your gold item, it will be better to sell it off. Of course, it is still up to your comfort.
Interested in finding out how much you can earn with your gold "Pawn", call us now at 03-7496 8788 / 03-7890 4132 or visit us at your nearest shop to get a FREE price evaluation! FREE!